Christian Moore, a yacht broker from Poole, UK knows turn of the millennium-era Sunseekers well, perhaps unsurprisingly, as his job used to be selling them: "I sold this Sunseeker from new and remembered it as the first owner ordered an unusually high specification for it. It has the Trimax surface piercing drives and other options that make it a very high performing boat, and when it recently came up for sale, I had to have it," said Christian.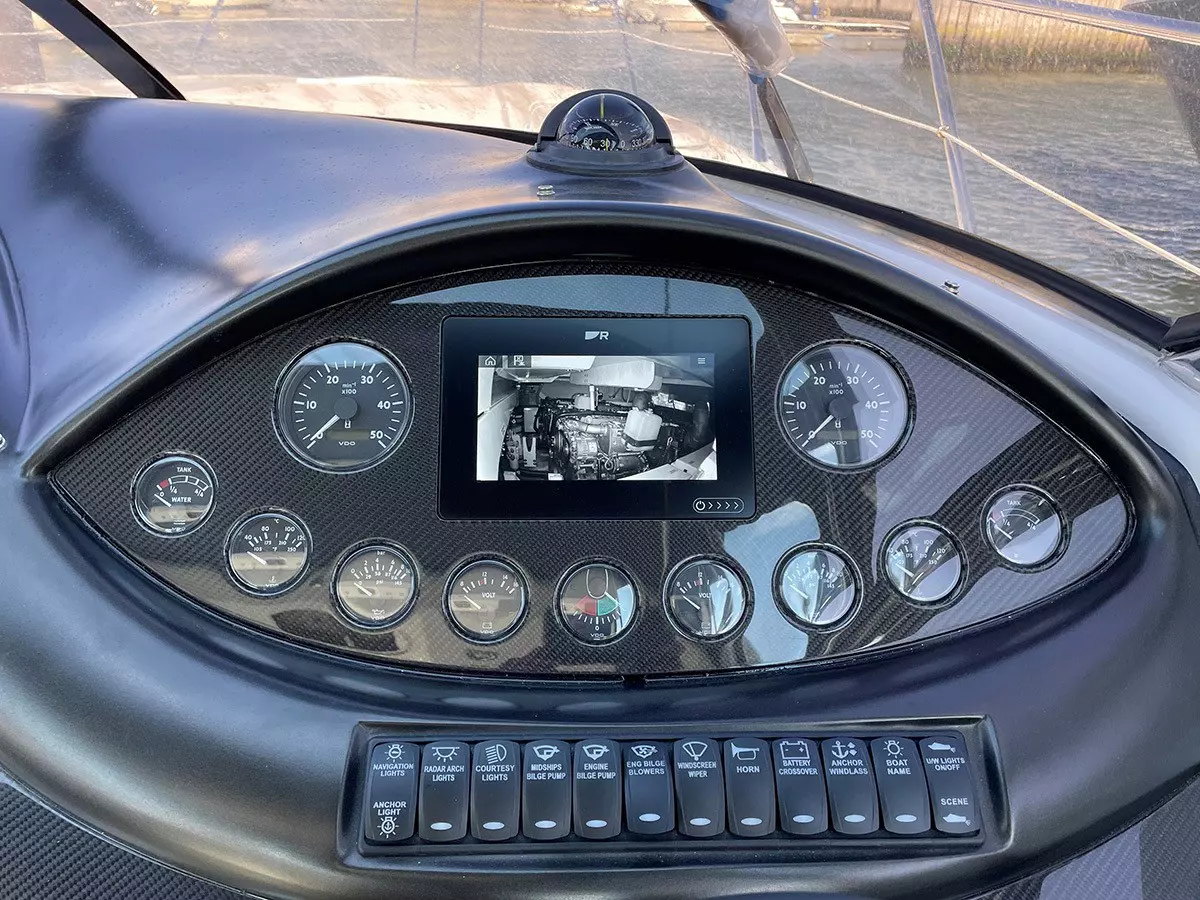 But the boat, which Christian plans to rename Sceptre, needed work to bring it, sympathetically, up to modern standards. A hull respray, retrim, synthetic teak decks, high-end marine audio install and new covers soon brought the outside up to scratch, but the old Chartplotter backed 'walnut' dash was delaminating badly and the instrument screens had ominous horizontal lines across them. The old dash was also configured in such a way that it would not be able to accommodate modern, larger screened displays.
Christian likes to do things properly, so with the same ethos that had led him to get the hull professionally resprayed rather than a vinyl wrap, he set about getting the dash redesigned in (real) carbon fibre. Christian went straight to friend and one-time fellow marine electronics apprentice Mark Porter who now runs Poole-based marine electronics company Seacraft Marine. As well as supplying the modern Raymarine kit, Seacraft Marine was also able to create a modern flat, carbon fibre dash panel, lavishly laid up in multiple layers on a sheet of glass for a much more uncluttered and modern feel.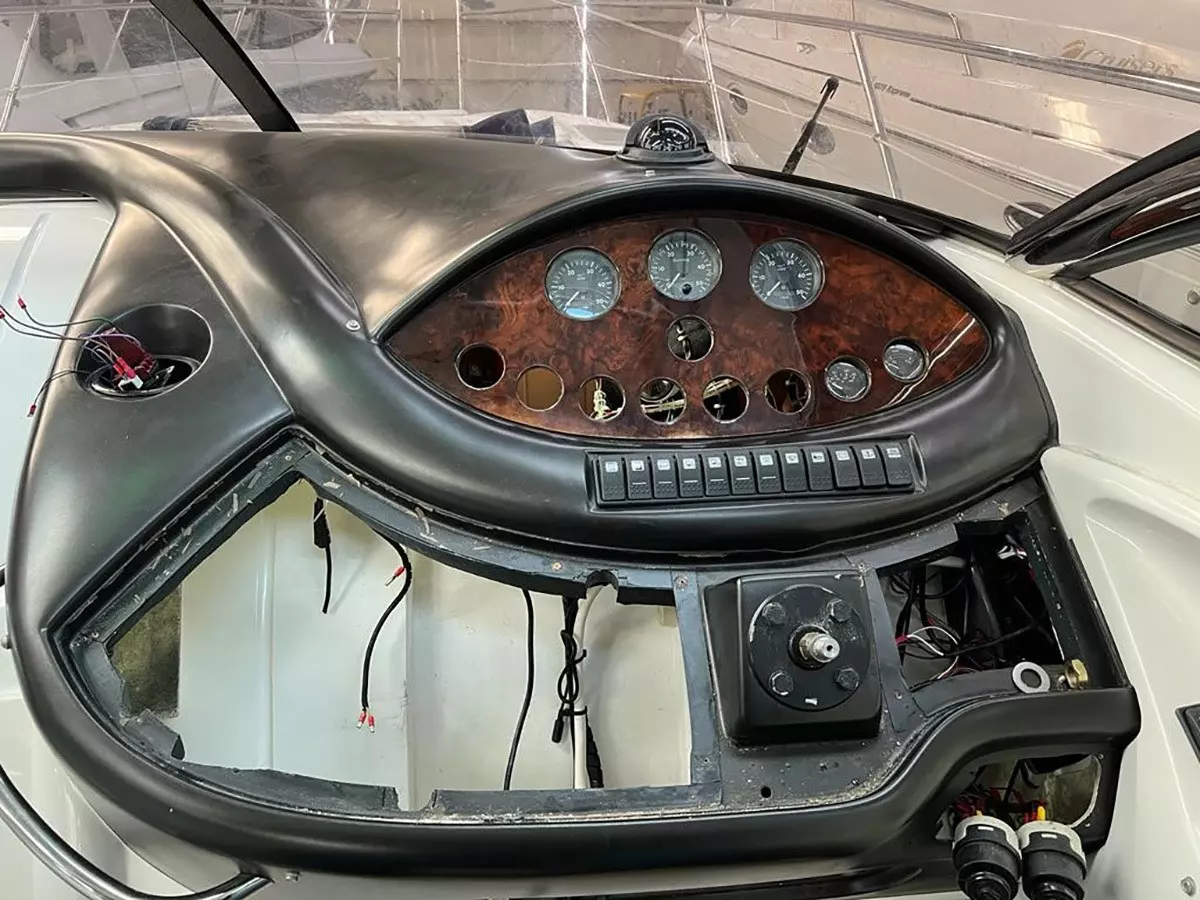 Centre stage on Sceptre's dash is the AXIOM+ 12 RV 12" Chartplotter with Realvision 3D. This flush mounted Chartplotter is expandable, so its capabilities can grow, as needed. It supports the full range of Raymarine accessories, and standard Wi-Fi and Bluetooth connectivity allows connection to the latest Raymarine apps for tablets and smartphones.
Additionally, the boat has a second flush mounted AXIOM+ 7 Chartplotter (unfortunately, the planned AXIOM+ 9 wouldn't quite fit), which has been specified so that the smaller screen can be designated for a single key job on passage, such as acting as a full screen dedicated radar display while the other larger MFD, offset from the wheel, can be used more actively to scroll between multiple functions and overlays.
As this is a high performance boat, capable of passage speeds upwards of 40 knots, Christian has also specified a horizontally mounted RMK-10 keypad. This allows the Chartplotters to be controlled from closer to the wheel, with a more positive push-button action, rather than relying entirely on the touch screen functionality of the display. At 40 knots in the English Channel, it can be pretty hard to control exactly where a finger moves on a touchscreen!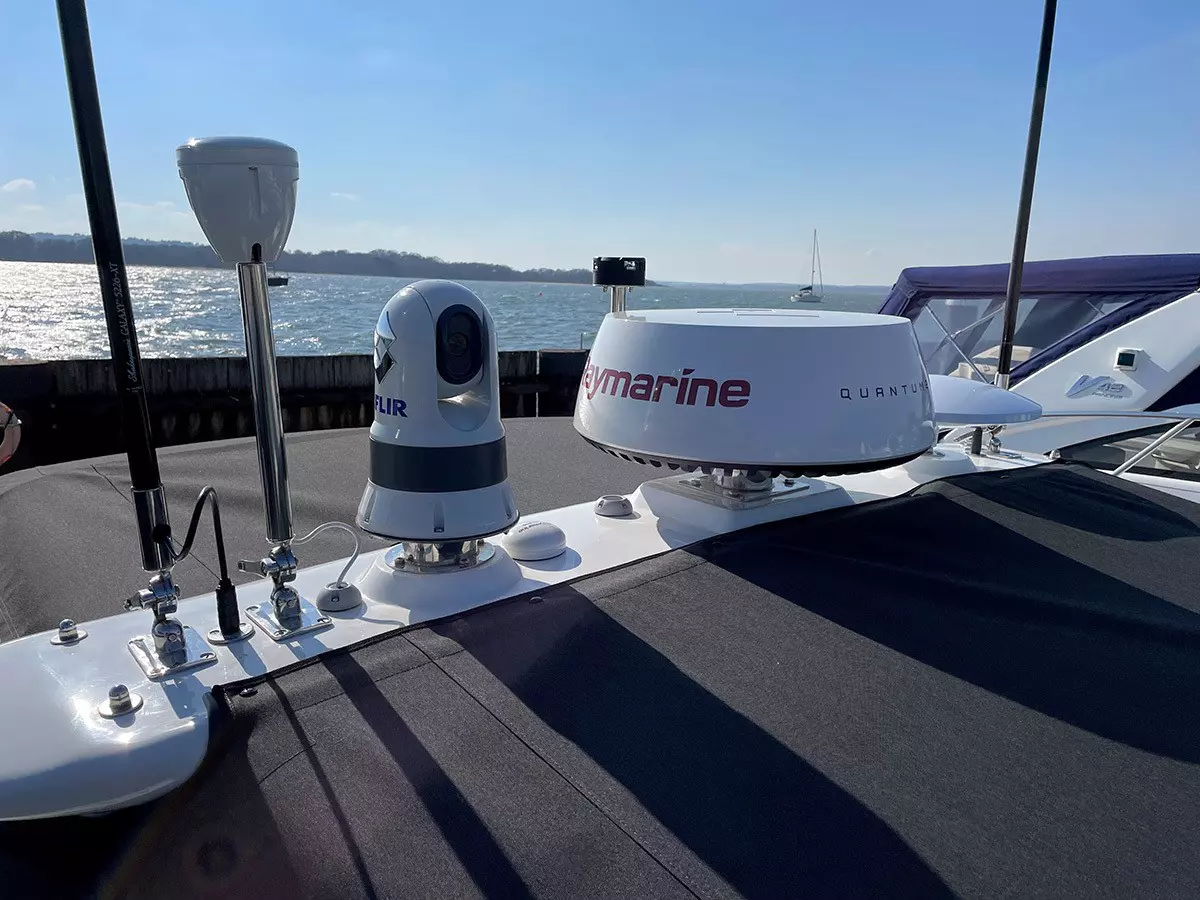 The Superhawk is equipped with a FLIR M232 thermal imaging camera for use in complete darkness, along with a CAM220 IP ruggedised, high definition, network dome video camera to keep an eye on the engine room. Both cameras are full integrated with the MFDs.
The M232 pan and tilt camera is one of FLIR's smallest marine thermal cameras, fitting unobtrusively onto the Superhawk's completely reconfigured radar arch. Featuring a resolution of 320 × 240, the M232 improves safety by revealing vessels and obstacles at night. While Christian does not plan extensive night passages in the boat, he welcomes the ability to make unscheduled twilight harbour entrance manoeuvres more safely thanks to FLIR ClearCruise™ intelligent thermal analytics. ClearCruise™ provides audible and visual alerts when "non-water" objects such as boats, obstacles, or navigation markers—appear in the scene.
Key to this technology is Raymarine's AR200 Augmented Reality Stabilisation Module. The AR200 is an Augmented Reality Sensor consisting of a GPS Global Navigation Satellite Systems (GNSS) Receiver and an Attitude and Heading Reference System (AHRS) sensor. The AR200 provides position, heading, pitch and roll data to the Axiom MFDs.
A Raymarine Quantum2 Doppler radar is a similarly useful addition aboard the boat when it comes to high-speed situational awareness. The English Channel is known for its high vessel traffic volumes, and Doppler target processing readily identifies and colour codes moving radar contacts for instant recognition and reduced risk of collision. Quantum 2 also provides manual or automatic MARPA modes for a further effective means of dangerous target tracking. Unlike the original Raytheon radar that was removed from the boat, the Quantum 2 starts up and is ready to go in seconds, and the scanner on the radar arch is much lighter in weight. The Quantum 2 weighs up to 50% less than comparable magnetron radars. When combined with the boat's Raymarine AIS700 a Class B Automatic Identification System (AIS) transceiver, it's hard to imagine any potential collision risk slipping below the radar, so to speak. As a Class B AIS transceiver, the AIS700 not only receives broadcasts from other vessels, it also transmits the boat's information too, providing a double layer of collision avoidance.
In terms of communication equipment, Christian has specified the boat with the Ray 90 VHF Black Box. This means the VHF radio's main unit is hidden safely out of sight, leaving just a compact handset at the helm; another great reducer of clutter on the dash.
The modern Raymarine kit is all plug and play, with the installation and configuration of the kit taking Seacraft just a week.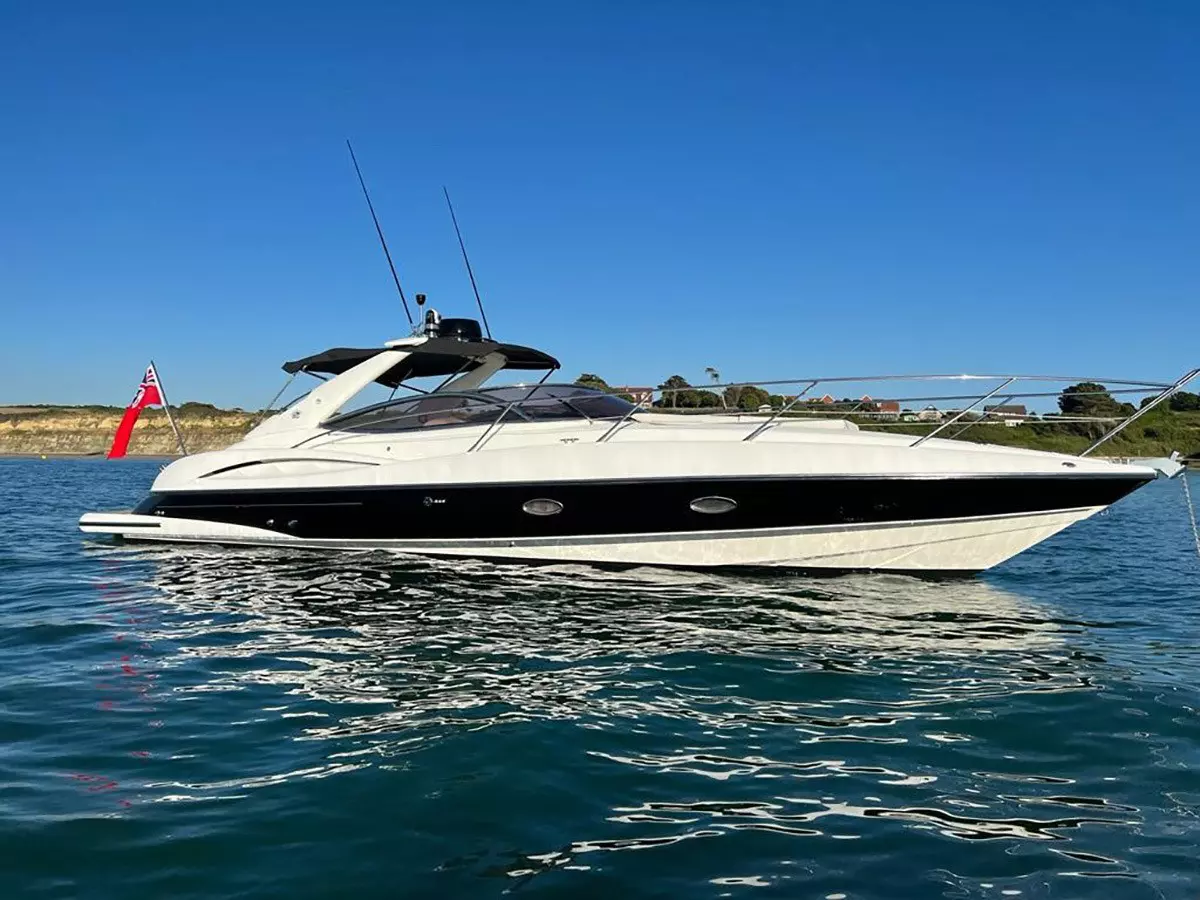 Christian could not be more impressed with the overall effect of this marine electronics upgrade aboard the boat: "I've promised myself a boat like this for many years. These kind of boats aren't built much anymore, and if they were, they would be prohibitively expensive. Values are going up and up as buyers recognise the charm and rarity, and good examples are proving increasingly difficult to find. With that in mind it's well worth the investment of bringing them up to modern standards, and of all the areas you can modernise, the electronics package is the most striking. The critical tasks of knowing where I am, where the potential dangers lie and what other boats are around have been transformed. Thanks to split screen and overlay functionalities, along with step-change improvements such as CHIRP radar and thermal imaging, extensive information is very quickly available at the helm."
"The most surprising thing is how neat and compact it all is. The birdsnest of wiring that Seacraft removed from behind the old dash has been replaced with the plug and play simplicity of modern backbone cabling. The dash itself is also much cleaner. Because the MFDs do so much of the work, and as their name suggests, are so multifunctional, the aesthetic look and feel of the helm area has been transformed and is no longer filled with mismatched, rarely used equipment. Not only is this great for the view from the helm and the look of the boat, having more information, more quickly available to the helmsman is a much safer way to travel in a quick boat."